Information
Our users have posted a total of 39917 articles
We have 1140 registered users
The newest registered user is jenny49
All about BigGene
Viewing profile :: BigGene

Joined: 3497 Days
Posts: 26
Location: Dongguan, China

New 2togroove Class Session!
Author: 2togroove :: Posted: Sat Feb 18, 2006 10:48 am GMT
2toGroove Lindy & Balboa Classes Start this week!
Now's the time to improve your dancing!



8 Classes, 2 Locations
Classes Start Feb 20, 21 & 22

http://www.2togroove.com/classched.htm,

REGISTER ONLINE



Pricing: 6 week series Pre-reg: $60
($10 more at the door)
single class drop-in: $12
Discounts!! Students get 20% OFF all rates



Learn More at 2togroove.com:


http://www.2togroove.com/levels.htm, Level description ,
http://www.2togroove.com/PrintReg.htm, Print Registration,
http://www.2togroove.com/videos.htm, Videos of your Teachers,
http://www.2togroove.com/individual_private.htm, Private Lessons
King Biscuit Revue - (expired event)
Author: shepkatt :: Posted: Sat Feb 18, 2006 10:07 am GMT
I was going through cleaning out all the questionable new usernames like I do each day and ran across a new one with this in the signature... I know some of you are looking for something to do tonight so I am posting it..






Great Live Swing Music by King Biscuit Revue - 8 piece Swing Band! Saturday, Feb 18 - Downtown Supper Club in Riverside CA (6th & Main) 8:30 - 12:30 - No cover! Great Food! Great Music! Great Dancing!



I didn't see this date/event listed on either King Biscuit's webpage or the Supper Club's webpage.. so if you think you might want to go check it out -- I would call the venue to verify that this is actually happening.

3597 MAIN ST. RIVERSIDE, CA.
(6TH AND MAIN STs.)
951-781-4661
Freemonts at Tio Leo's (expired event)
Author: reya98 :: Posted: Fri Feb 17, 2006 12:10 pm GMT


Support one of the best blues bands in San Diego. Cover $5

Tio Leo's 9:00 - 1:00am 5302 Napa St. San Diego, Ca
No Lindy by the Bay tomorrow!
Author: shepkatt :: Posted: Fri Feb 17, 2006 5:49 am GMT





Lindy by the Bay CANCELLED for this Saturday (February 18th) due to weather.




Discussion thread HERE
Firehouse/Jitterbox 2fer passes now available!
Author: Meeshi :: Posted: Wed Feb 15, 2006 2:58 am GMT
Can't decide between going to the Firehouse or to the Jitterbox this week? Why not come to both! Now dance both Thursday AND Friday night for one NEW LOW PRICE -- $10/adult, $8/stud. under 21 (Firehouse classes not included)!


First off, thank you to those of you who have supported both the Firehouse and the Jitterbox in the past. As you know, I've tried to give the Firehouse and the Jitterbox dances completely different musical vibes/DJs in order to please swing dancers of all musical tastes. Now, to thank those of you that already support both venues and to encourage more of you to check out the Jitterbox, I am now offering

NEW Firehouse/Jitterbox 2fer passes

! You can now attend both dances this week for one LOW fee of

$10 ($8 for students under 21)

. For the price of a single movie, you can dance for over

6 hours

...
Happy Valentines Day!!!
Author: Jeff :: Posted: Tue Feb 14, 2006 12:58 pm GMT
To all of San Diego's AMAZING follows from all the very grateful leads!!


Living Legends of Swing (expired event)
Author: shepkatt :: Posted: Fri Feb 10, 2006 7:46 am GMT

click to be taken to the Living Legends webpage


What a great weekend! Thank you, San Diego, for showing up, enforce, to support this weekend event.

Thank you to everyone who traveled here from other cities to be a part of this absolutely fantastic event.

And thank you to Frankie, Norma, Chazz, Minn and Corina for coming to San Diego to share a little bit of yourselves with all of us!


Discussion/comments, etc... can be posted HERE
Another Swinging Baby...
Author: hitman :: Posted: Thu Feb 09, 2006 4:01 pm GMT
Hi Everybody!

Long time no swing!
Just wanted to announce the arrival of little Parker @ 6lbs 12oz. Mom and baby are doing great and should be home from the hospital on Friday.

Also, we'll be moving down to Pasadena in April, so hopefully we'll get to see our dear swing friends soon.

Andy, Emmy, Grayson, and Parker

Parker and Mommy



Grayson and Daddy

BEARCATBABY'S BIRTHDAY BASH!!!
Author: bearcatbaby :: Posted: Thu Feb 09, 2006 1:17 pm GMT


BEARCATBABY'S BIRTHDAY BASH!!!.......and/or Valentines Day Extravaganza!!!!!!!!!!!!!!!!!!

Here's what's up..........

Who: ME....Tina.........aka Bearcatbaby........and hopefully YOU!!!!!
What: MY BIRTHDAY........and Valentines Day
When: TUES. FEB. 14TH, 2006............@ 'round 9:30pm-???
Where: HENRY'S PUB.......downtown........you know
Why: BECAUSE!......plus......it's gonna be fluffin' awesome!!!


PS:

*VINTAGE ATTIRE GREATLY APPRECIATED...AND PREFERED!

*Bring your FLUFFIEST DANCIN' SKILLS!!

*Cake and cookies provided.....mmmmmm.....drinks???...you're on your own...................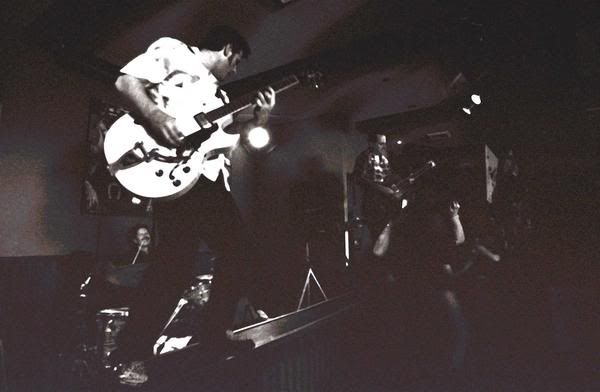 *The Stilettos WILL be playing next week!....(Tommy and the Henry's staff apologize to all the dancers that came out Feb. 7th......technical difficulties.....DANG!!!)


Hope you fluff your stuff at my fluffin' party! FLUFF ON FLUFFERS!!!




Sincerely....Your Fluff Queen...........Bearcatbaby
Stompy Jones plays at Champion Ballroom this Sat. Feb. 11th!
Author: Meeshi :: Posted: Tue Feb 07, 2006 4:23 am GMT
In just a few days, our special weekend with Frankie and Norma begins -- capped off by a rockin' Saturday night dance with SF's very own Stompy Jones at the beautiful Champion Ballroom!


Yes, the time has come, the Living Legends of Swing weekend is here. I'm so excited to have the two surviving original Whitey's Lindy Hoppers here in SD in just a matter of days. I hope to see you at all the classes and dances this weekend, but if your schedule does not permit you to attend the whole thing...

PLEASE, PLEASE, PLEASE

be sure to come on out for our special Saturday night dance event with Stompy Jones.

San Francisco-based Stompy Jones is nationally renowned for their jumpin' rhythm, wailing improvisations, and relentless energy. They've been driving up the cultural temperature in California with their hip charm, retro style, and explosive stage show. These journeymen of jump have been playing boogie-woogie, vintage jazz and...
SwingOrama Poll
Which Firehouse Swing Class are you interested in attending?
Hot Topics
Wed Feb 25, 2015 3:20 pm GMT Meeshi

Swing into Spring at the ...
---
Wed Feb 25, 2015 1:02 pm GMT Meeshi

*SWING BASICS* THURSDAYS ...
---
Mon Feb 23, 2015 5:15 pm GMT SwingDance

Saturday Afternoon Swings
---
Mon Feb 23, 2015 5:06 pm GMT SwingDance

Happy Feet Fitness – Swin...
---
Mon Feb 23, 2015 5:05 pm GMT SwingDance

Family Swing Dance Classe...
---
Mon Feb 23, 2015 5:03 pm GMT SwingDance

The Hep Spot - A Sunday S...
---
Mon Feb 23, 2015 5:02 pm GMT SwingDance

Swing Era Dance Classes ...
---
Mon Feb 23, 2015 5:01 pm GMT SwingDance

Free Hang 10 Hopper Sessi...
---
Mon Feb 23, 2015 4:59 pm GMT SwingDance

Hang 10 Hopper Tuesdays S...
---
Mon Feb 23, 2015 4:58 pm GMT SwingDance

Mojo Workin Mondays - Fre...
---